Mattresses and Bedding for Pilatus Aircraft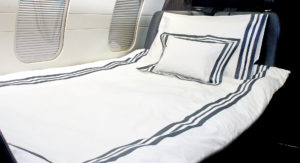 From private jet beds to custom airplane mattresses, JetPedic offers customized solutions for those who travel via air in Pilatus aircraft.  We understand that getting comfortable or enjoying a restful sleep on a jet or airplane can be a challenge.  Our airplane beds and private jet mattresses are designed in a way that you can experience the ultimate in comfort – regardless of limited space and surfaces that are uneven.
Airline beds are rarely comfortable; however, our corporate jet bedding and business aircraft beds make resting, sleeping and relaxing a pleasure.  Our aviation bedding includes covers, mattress pads, custom hand-tailored sheets and more. Regardless of cramped spaces or unusual dimensions, our private jet and custom aircraft beds will leave you feeling rested and invigorated, ready to face the day.  Contact JetPedic today for all of your Pilatus custom mattress and bed needs.