Premium Beds for Embraer Jets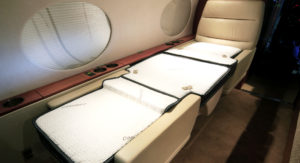 When it comes to corporate plane bedding and business aircraft mattresses for those with Embraer aircraft, no other company compares to the customized solutions offered by JetPedic.  We understand the importance of portability, supreme comfort, support and airplane beds that meet your unique needs.  Considering most planes and jets have very little room to spare, unusual dimensions, and a lack of level areas, our custom aircraft beds solve all of the issues you may have faced in the past.
Airline beds are rarely as comfortable and supportive as you would like; however, our custom private jet and airplane beds assure you of the best sleep and quality comfort you have ever experienced while in the air.  In addition to custom aircraft beds and mattresses, we offer in-flight bedding to make your relaxation time even more enjoyable.  From sheets and covers to mattress pads and other aviation bedding, you can enjoy peace of mind knowing you never again have to sleep on hard, lumpy, or uneven surfaces.  Why not sleep on a cloud and wake refreshed, ready for whatever the day brings?
If you are searching for a custom jet bed, airplane mattress, or corporate plane bedding, why settle for less and have to sacrifice quality, comfort or sleep?  At JetPedic, our airline beds and aircraft bedding provide superior comfort, relaxation and sleep like you have never known before.  Contact us today for all of your Embraer mattress, bed and bedding needs.