Aircraft Beds By JetPedic
Custom-Made for your Bedding Needs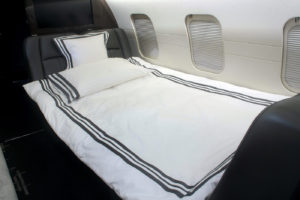 From private jet beds to airline beds and custom aircraft beds, JetPedic Sleep System is your go-to provider of custom solutions for those who spend substantial time flying.  We know that finding a comfortable way to sleep when in-flight can be challenging, and a good night's rest is essential.  We believe in a custom approach to the ultimate in comfort and sleep, providing a wide array of options for our clients.
Our JetPedic airplane beds easily accommodate your needs whether you need a plane bed that converts to a single Club seat, two single Club seat chairs that face opposite each other, a four-seat Conference area, or Divan/sofa area.  In the past, beds on planes were uncomfortable, blow-up mattresses that leaked or thin foam that provided no comfort. Now you can transform the surfaces on your private or corporate jet or airplane into plush, comfortable sleeping areas.  Our custom airplane beds make it possible for you to enjoy the same comfort and relaxation you would expect to find only at home.
The Leader in Custom Aircraft Bedding
At JetPedic Sleep System, we know every need is different, as the dimensions and space in an aircraft vary depending on model, make, even what year it was manufactured.  When you need a custom jet airplane bed or one for any type of airplane or jet, rely on JetPedic for the ultimate in quality, luxury and customized comfort.