Corporate Aircraft and Business Jet Bedding & Mattresses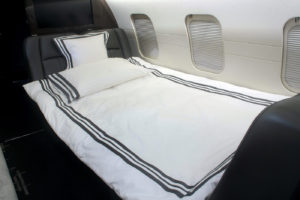 Imagine sleeping on a cloud of comfort while soaring through the air.  With JetPedic Sleep System's line of custom corporate jet bedding and business aircraft mattresses, you can do just that. Rest assured you can get a quality, sound sleep whether during the day or night.  We understand that finding a comfortable place to sleep on a corporate plane or business aircraft can be challenging, given the cramped quarters and uneven surfaces of seats and tables that fold down.  Our business aircraft beds are customized to your needs, providing luxurious comfort you would never imagine possible when traveling via air.
Our corporate plane bedding solutions include latex core, gel foam memory, premium latex sleep top with honeycomb gel base and other custom mattresses designed to perfectly fit the dimensions of your aircraft.  In addition to our premium quality business aircraft mattresses, we provide a wide selection of custom luxury bedding including sheets, covers, mattress pads, sheet snaps and more to ensure you enjoy the best sleep you have ever experienced in spaces that are typically uncomfortable.  When you choose JetPedic Sleep System for your corporate jet bedding needs, you can rest assured you will enjoy all of the comforts of home.